PQ's St-Pierre Plamondon says he and Legault had 'an honest conversation'
With his party's promotional Quebec passport in hand, Paul St-Pierre Plamondon was the last opposition leader to have a one-on-one session with François Legault.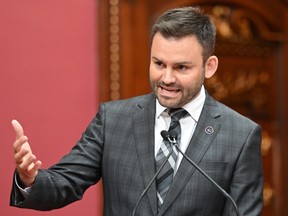 Article content
Parti Québécois Leader Paul St-Pierre Plamondon came up with an original way to break the ice at his long-awaited one-on-one meeting with Premier François Legault.
Article content
We apologize, but this video has failed to load.
PQ's St-Pierre Plamondon says he and Legault had 'an honest conversation'
Back to video
When he entered Legault's Montreal office Tuesday, he slipped the premier one of the popular blue Quebec passports the PQ distributes and sells as a promotional tool for its independence dream.
Article content
"It started with a little bit of humour because I reminded him of how difficult certain issues are with Ottawa and (Prime Minister) Justin Trudeau, so I gave him a Quebec passport with quotes from René Lévesque, Jacques Parizeau, Félix Leclerc, (Pierre) Falardeau," St-Pierre Plamondon told reporters as he emerged from the meeting.
"We had an honest conversation about the future of Quebec, and then we started working on very specific demands that we have."
St-Pierre Plamondon was the last of the National Assembly opposition leaders to have a one-on-one meeting with Legault, who is trying to show more openness to their ideas in 2023 as a counterweight to the massive majority of 90 seats the Coalition Avenir Québec won in the fall election.
Article content
Legault met with Liberal opposition leader Marc Tanguay, Québec solidaire co-spokesperson Gabriel Nadeau-Dubois and Conservative Leader Éric Duhaime last week. The legislature resumes sitting Jan. 31.
As it was for the other three, St-Pierre Plamondon's meeting with Legault, himself a former PQ cabinet minister, ran about 90 minutes.
St-Pierre Plamondon said he focused the conversation on eight specific items the PQ would like to see addressed. Language was at the top of his shopping list, with St-Pierre Plamondon calling on the government to do more to protect and promote French.
Specifically, he called on Legault to draft an emergency language plan that would include extending the rules of the Charter of the French Language to the CEGEP system — something the government refused to do when it adopted its new language law, Bill 96, in May 2022.
Article content
Standing on the sidewalk on Sherbrooke Street after his talk with Legault, St-Pierre Plamondon said the tone of the meeting was frank and constructive. He urged the premier to use the ideas raised in his meeting and those provided by the other leaders and make this more than a public-relations exercise.
He said the four parties tabled about 20 ideas in total.
"We talked about another meeting, a followup on those demands," St-Pierre Plamondon said. "I don't know exactly how we will do it. (The premier's staff) are assessing all those demands. We just want to make sure the exercise is not only about taking pictures.
"There was no immediate answer to any of our demands. That's why we're very strong on being rigorous on the followup. We were in good faith. Some of those ideas have to be useful and applicable, so we will do a followup in a month or two."
Legault tweeted out a photo of Tuesday's meeting with a short message.
"We will take the time to analyze all this," he wrote of his talk with St-Pierre Plamondon.
Article content
St-Pierre Plamondon is starting the year on a high note. In the brief December sitting of the legislature, he and his two PQ colleagues in the National Assembly won a political battle in the form of the adoption of a bill abolishing MNAs' oath to King Charles III.
And a December Léger poll showed the PQ benefiting from troubles experienced by rival Québec solidaire. For the first time in five years, the PQ was in second place behind the CAQ in public opinion.