Visually impaired Jaheem Joseph defies odds on basketball court
An all-star at Vanier last season, Concordia forward hopes his story will inspire others to overcome adversity after losing sight in right eye.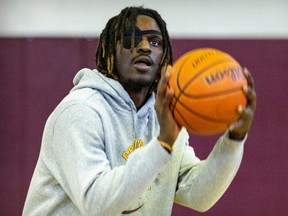 Article content
It seemed innocuous at the time. Jaheem Joseph and some friends went to a park in Gatineau in July 2020 to set off fireworks and pass the night, a typical teenager activity.
Article content
We apologize, but this video has failed to load.
Visually impaired Jaheem Joseph defies odds on basketball court
Back to video
Joseph wasn't sitting close to the fireworks and the group wasn't acting recklessly. So what could possibly go wrong?
Article content
However, one of the devices flew directly into Joseph's right eye. It was a freak accident. The pain wasn't bad, he remembered, but there was burning and he was told that night at a hospital that there would probably be some scarring. He was discharged the same night with a bandage on his face. It was only the next day, when he returned to hospital, that the doctor was unable to relieve the pressure in his eye and Joseph was advised he would be totally blind in the eye.
Joseph, who was born in Ottawa but spent much of his youth in Montreal, was a high school basketball phenom at the time, virtually certain of getting numerous scholarship offers to play Division I in the U.S.
Article content
"The doctor told me straight up and it was hard," Joseph remembered. "I cried and didn't want to believe it, but I had to face (reality). I grew up with two eyes. It was mentally tough at first. If I go back in time, I wouldn't have been there. I felt sorry for myself. But, you know, young guys, we don't think about accidents. We just think about having fun."
Joseph, who occasionally wore glasses, took them off that fateful night. He wonders, had he been wearing them, if the lens might have deflected the firework.
Nonetheless, after recovering, Joseph refused to be resentful or pout; that would have been too easy. About six months later, he returned to a court — a patch over his right eye — determined to overcome the odds while recapturing his passion for the game.
Article content
It was difficult at first, Joseph taking easy layups, short shots, perhaps using the backboard until he regained some confidence before challenging himself from three-point range. He missed, frequently, but remained undaunted. He practised almost daily for four months, hours at time, until his muscle memory took over — the moves, dribbling and shooting almost becoming natural again.
"Shooting, moving my head, going back to see the ball, the court," he said. "I had to visualize and imagine the court."
He was an all-star at Vanier College last season, averaging 14 points and six rebounds per game. In his final high school season — before Joseph lost the sight in his eye — he averaged 22 points and 11.4 rebounds per game, shot 53 per cent from the floor and 46 per cent from three-point range.
Article content

"To be honest, I don't know how … I just do it," said Joseph, 21. "I tell myself I can do it, I'm capable of doing it and just do it. I go out there and do it. Basketball has always been in me. It was difficult and challenging at first, but now it's like I have two eyes and it's not difficult. Shooting's OK. Driving's OK. I think my left eye compensates.
"I visualize myself with two eyes. Aim the ball. Shoot the ball. Same release, same motion."
After verbally committing to the University of Ottawa, Joseph, a 6-foot-5 forward, recently transferred to Concordia — not only to be home, but because Stingers head coach Rastko Popovic scouted him extensively before and after the accident.
"I don't think people understand how hard it is to play basketball with the situation he has," Popovic said. "It shows how talented he is. To do it at this level, still, is just remarkable. He doesn't use it as an excuse, ever. He just goes and plays. He competes. That's important. He can dribble. He can shoot and do multiple things on the court. He was one of the best coming out of high school."
Article content
Because Joseph joined the Stingers late, he has appeared in only four of their 10 conference games. Playing slightly more than 21 minutes per game, he's averaged 13.3 points — second on the team — along with 3.5 rebounds. He also played three tournament games after Christmas at Dalhousie University where, in slightly below 19 minutes on the court, Joseph averaged 12.3 points and four rebounds.
"He's finding the way to do the best he can with what he has," Popovic said. "I don't think people understand how difficult it is to play defence, see both sides of the floor. You're driving the ball, to see someone in the corner, depending where your angle is, it's very difficult. When you watch him play, you wouldn't think he has this … where he can't see as well as everyone else.
Article content
"You have to understand he's been doing this for some time. He's aware of his limitations. He's trying the best way to figure out how to do it."
Shy by nature, Joseph isn't reticent to tell his story, hoping it will help others overcome adversity. He wants to study psychology and hopes a professional basketball opportunity, locally or overseas, will arise.
"Even if you go through adversity, keep going," Joseph said. "Nothing can stop you."
twitter.com/HerbZurkowsky1
Recommended from Editorial